Why Winter In Kolkata Is Absolutely Amazing…
Kolkata, which otherwise remains unbearably hot and humid in Summer, especially offering a painful experience to natives flying down from a cold region, unbelievably turns into a great weather paradise, gradually with the arrival of November. Seriously, you should not think twice before planning a trip to the City of Joy in the winter months. Wonder why winter in Kolkata is a bliss? There you go.
Well, to speak in strict climatological terms, winter in Kolkata is so unlike the winter in Delhi which is beyond endurance. Mind you, Delhi temperatures fall down to 2 or 3 degree Celsius as well. However, it also differs from the nature of winter Southern India gets to experience, with a moderate temperature, the Sun still manages to shine bright. Kolkata winter is cold, you know, tolerably cold. You can snuggle into your blankets or sport your favourite jackets, jumpers, cardigans and whichever winter garment you desire to don. You will be comfortable in it, with a bearable chillness, which makes it all the more amazing.
Especially in December, the entire city gets ready for a grand Christmas celebration. You cannot miss the marvelous Christmas Festival at Park Street. The entire stretch gets so beautifully decked up.  However, Park Street is one of the many reasons why Kolkata looks beautiful in Winter. Why don't you try heading off to the Bow Barracks, centrally situated in the city? If you are looking for a calm and peaceful lane with brick Red houses and cars parked alongside, fairy lights shimmering overhead, and the closed stained windows narrating untold escapades, Bow City is where you need to venture, where the calmness speaks of unrevealed stories.
Movie enthusiast? Looking for a perfect holiday in Kolkata? Winter is the time when Kolkata theatres promise you a relishable holiday. Ranging from Rabindra Sadan to Nandan, Film Festivals have always been a favourite. Try visiting the various theatres across the city where Kolkata flaunts Art and Culture. Kolkata International Film Festival dominates our priority list without a doubt.
So does the Kolkata Book Fair. If you are a bibliophile, you will inevitably not return home disappointed. Kolkata Book Fair offers you a wide, very wide domain of books from across different countries of the World. Actually, you will look forward to your next visit once you set your foot in the Book Fair. Hey! What about the Foodies? Don't worry. Winter has a deep connection with our very delectable dessert "Pithey". Do drop in at a nearby sweet shoppe, and make sure it is a reputed one and I assure you, you are going to keep on licking your fingers. You are going to get parcels done for home.
Theist at heart? Atheist at heart? Does not matter. Keep aside an hour for a visit to St. Paul's Cathedral Church. Even if Jesus fails, the resplendent British architecture is definitely going to mesmerize you. Winter is the time when you can actually arrange day tours around the city.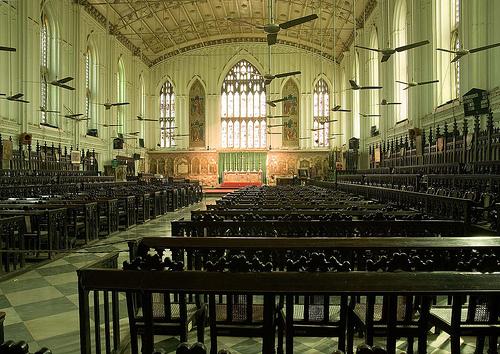 Wait a minute, you don't really need to plan a tour. Just go out for a walk. Let it be a solitary morning walk along the foggy streets of Kolkata, or an evening walk with your loved one. Or maybe, spend a lovely time with your old school friends along the ghaats of Ganges. Or maybe, plan a small picnic with your family. The list goes on.
Winter in Kolkata is beautiful. Move out of your blanket, and get ready to experience the best season in the city!
WRITTEN BY:
KASHMIRA MUSTAFI